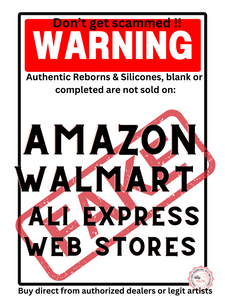 Reborn dolls have become a popular art form, and collectors appreciate the time and skill required to create these lifelike dolls. However, the rise of counterfeit reborn dolls has become a growing concern within the reborn doll community. In this blog post, we will discuss why counterfeit reborn dolls are hurting the art and the impact they have on the industry.
Quality and Authenticity
Counterfeit reborn dolls are often of poor quality and lack the attention to detail that authentic reborn dolls have. The artists who create authentic reborn dolls put a lot of time and effort into making sure each doll is unique and looks as realistic as possible. Counterfeit reborn dolls, on the other hand, are often mass-produced and lack the same level of care and attention to detail.
Misleading Customers
Counterfeit reborn dolls are often sold as authentic, leading customers to believe they are purchasing a high-quality, one-of-a-kind piece of art. However, these dolls are not made by the original artist and are often sold at a fraction of the cost of an authentic reborn doll. This not only misleads customers but also undermines the work of the original artist.
Copyright Infringement
Counterfeit reborn dolls violate the copyright of the original sculpting artist. Sculptors spend countless hours creating their dolls and have the right to protect their intellectual property. When someone creates a counterfeit reborn doll, they are essentially stealing the sculptors work and profiting off it.
Impact on the Industry
The rise of counterfeit reborn dolls has had a significant impact on the reborn doll industry. It not only undermines the work of authentic reborn doll artists but also affects the market for authentic dolls. When counterfeit dolls flood the market, it can make it difficult for authentic artists to sell their work, ultimately hurting their livelihood and risking the entire art itself.  
In conclusion, counterfeit reborn dolls are hurting the art of reborn dolls in many ways. They mislead customers, violate copyright, and impact the industry. As a collector, it's essential to do your research and purchase authentic reborn dolls from reputable artists. This not only supports the artists but also ensures you are getting a high-quality, one-of-a-kind piece of art.